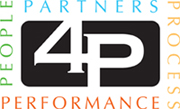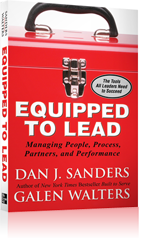 Welcome to the 4P Assessment Tool
from the new book, Equipped To Lead
What is the 4P Assessment? The 4P Assessment is a tool designed specifically to highlight where companies have issues that need focus. The best use of the tool is when it is taken organizationally. However, it is useful to take as an individual as well. It has 28 questions, 7 each in the areas of People, Process, Partners and Performance. It should take less than 20 minutes to complete. At the end you will be given the opportunity to view, download or print out your report chart.

Important: Once you have completed the free assessment, we will not keep a copy in the database. The copy you download will be the only copy of the assessment.
Instructions:

You need to determine if you are taking the Free 4P Assessment or the Organizational 4P Assessment.

If you choose the Free Assessment, you will begin the assessment by clicking on the red box and receive your report chart at the end.
If you choose the Organizational Assessment, you will be sent to the registration / e-mail upload / and informational section of the Assessment.

Choose your Assessment and begin.